Latest News
---
Website News
---
Locomotives
Coaching Stock
Freight Stock
Multiple Unit Trains
Reskins
---
Track and Electrification
Signalling and Trackside Signage
Station Platforms and Furniture
Bridges, Tunnels, and Level Crossings
Servicing Facilities
---
Rules, Orders and Libraries
---
Tutorial Content
---
Screenshot Gallery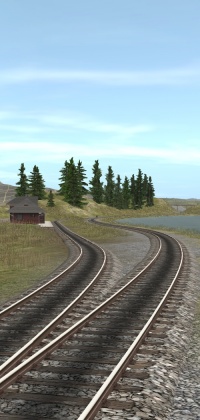 ---


IPv6 enabled
News posted at: Sun Jun 10 02:05:43 2012

The internet is evolving. A new version of the Internet Protocol is now in use. This website is now available over both IPv6 as well as IPv4. If your computer, router and ISP are IPv6 capable, IPv6 will be used automatically.

Possible unreliability approaching
News posted at: Sun May 6 10:43:58 2007

I'll be without a permanent internet connection for the next three weeks or so while I relocate myself - and as a result, I have to transfer my DNS provision to a service provider for the duration. While this is happening, there may be some unreliability in getting to my site or emailing me - the site isn't going away, it's just that name lookups on the domain may not be 100% reliable.

Major website update
News posted at: Tue Dec 5 13:27:54 2006

As you may have noticed, there's a lot more stuff on the website today. Some of it really is new, but some of it is because I have finally got around to adding entries for some of the content that has been sitting in the downloads area for some time but has not (until now) had an entry on the website.

I've also been shuffling the categories. Some day, I may sort or group them into a logical order too...