Latest News
---
Website News
---
Locomotives
Coaching Stock
Freight Stock
Multiple Unit Trains
Reskins
---
Track and Electrification
Signalling and Trackside Signage
Station Platforms and Furniture
Bridges, Tunnels, and Level Crossings
Servicing Facilities
---
Rules, Orders and Libraries
---
Tutorial Content
---
Screenshot Gallery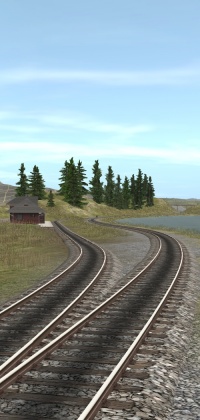 ---


Kestrel on your Desktop ... Again
Version 1 posted at: Tue Apr 1 06:50:36 2008

| | |
| --- | --- |
| | I didn't expect to be doing more renders of Kestrel, but I've been persuaded to put all the component meshes back together (with the new shape roof), and do some more renders... |

Brake Rigging
Image posted at: Sun Sep 30 01:07:17 2007

The external brake rigging is now complete, having at last found a good closeup of the original bogie with discernable details. Sadly, the complexity of that brake rigging has added ever more polygons though...

... now to bash the cab roof into shape ...

Kestrel on your Desktop
Version 1 posted at: Sun Nov 5 14:29:52 2006

| | |
| --- | --- |
| | Today, a milestone was reached - next time Kestrel is this complete, it will be in Trainz, as all the attached objects are now being split into separate files for texturing and animating. While it was still all in one piece, I did some renders of it. They seem to have come out rather well, so I thought someone out there might be interested in one as wallpaper... |

Sound recording of Kestrel
News posted at: Sat Oct 28 21:42:55 2006

The hunt is on for some sound recordings of this beast, from which to make an Enginesound. Given there was only one ever built, and it was last heard by british ears in 1971, this is going to be a challenge. I have found a film of it - but the soundtrack is entirely obliterated with incidental music and commentary, and I can't hear the loco at all - it may not even have been recorded at the time the film was shot. If you happen to have recordings of it, or know where there are some, I would be very interested to hear from you. (My email address isn't here for antispam reasons, but you can contact me via the UKTrainz forum or grab my address out of one of my bits of content - it's in every config file.)

Well, I hear you say, look for similar locos. Sadly, that's hard too. Sulzer only made one V16 diesel engine for rail traction - and this is it. I haven't found a record of another loco with this engine. After Kestrel, Sulzer built marine engines. The marine engine developed from the 16LVA24 is the 16ASV series. Interestingly, the ASV did come to rail for a few years in the early 80s - some SD45s belonging to American railroads ATSF and UP were re-engined with Sulzer 16ASV25/30s in 1980/1981. They didn't last long in service - apparently there were reliability problems. While these rev slower than the 16LVA24 (900rpm versus 1100rpm), they are going to be the closest match if I can't get real 16LVA24 sounds. If anyone has or knows of a recording of a 16ASV powered vehicle, whether on rails or water, I'd be very interested in that too...

Kestrel Bodyshell update
Image posted at: Sun Oct 22 12:02:05 2006

The bodyshell has received some attention too - the underframe is now nearly complete, only cables and pipework to add. (The fans and grilles which appear to be missing are built and animated, and are thus in separate source files.)

Progress on Kestrel's Bogies
Image posted at: Wed Oct 18 13:38:12 2006

Thought it was about time I updated this page, so here's a shot of Kestrel's bogie as it looks at the moment. It is a little heavy on the polys at over 7K, but there's not much I can shave out - it seems to be 7K by merit rather than by wastefulness. I guess this is down to Brush putting all the brake rigging on the outside of the frame rather than the inside, and thus coming up with something that looks as complicated as it does.

Starting on Kestrel's bogies
Image posted at: Thu Aug 25 22:16:50 2005

Just the frame, weels, axles and axleboxes so far. Still got to add all the springing, damping, random linkages, traction motors, pipes & cables, sandboxes, steps and all the other stuff that makes the real ones look so busy...

Another Kestrel update
Image posted at: Fri Aug 12 21:38:44 2005

It's starting to get a little closer to complete now. The bodyshell is basically complete, the majority of the underframe has appeared, and attachment points have started to appear in all sorts of places.

After a few random underframe components, the next step is texturing. Oh, and those bogies...

HS4000 'Kestrel' screenshot - updated
Image posted at: Thu Aug 4 18:22:21 2005

More of HS4000 'Kestrel'.

As usual, nothing is as simple as it looks to start with.

So there was only one of them? Can't be any detail differences then, right? Wrong....

There are many things that appear to have been modified during Kestrel's short life on BR.

In particular, the two small raised pieces in the centre of the roof (above the small grilles) appear to have been removed some time later on. They are present in a photo I have of Kestrel in freight service, but absent in a photo I have of it in ECML passenger service (with the later bogies).

The small grilles themselves have seen at least two different arrangements too...

Update: Now with cabside doors.